In the past year, more than six high-profile media companies (notably MTV News, HuffPost Live, and Fox Sports) have announced a "pivot to video," meaning they reduce the size of their editorial teams in favor of focusing on video production. With one such announcement after another, "pivot to video" has achieved a sort of gallows humor meme status in the media and publishing community. But what does the trend of pivoting to video mean for marketers?
Every pivot to video – and the discussion around it – is built on a misperception, which is that users prefer video. They don't. Algorithms prefer video because advertisers prefer video because it's harder for users to ignore a pre-roll ad that plays before a video than it is to ignore banner ads on the side of an article.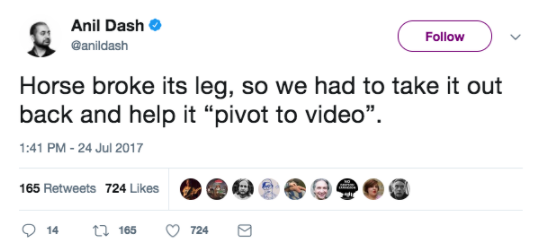 Source: @anildash
After the announcement of Fox Sports' pivot to video, Jamie Horowitz, president of national networks at Fox Sports, wrote in a memo to staff:
"We are listening to our advertising partners. Our advertising partners want to be presented alongside premium video across all screens, so we will now focus on delivering high quality sports video content to support their efforts."
For as many media companies that have announced a "pivot to video," there's an article published denouncing the probable success of such a move. And there's data to back it up: Sites that pivoted to video this past summer saw a 60% drop in their traffic from the previous summer. Mic, which pivoted to video in August 2017, went from 17.5 million visitors in August 2016 to 6.6 million visitors in August 2017.
There are a few explanations for the crash-and-burn fallout of pivoting to video, one of which being that these media companies didn't have the strategy or infrastructure in place to support a successful pivot to video. Another being that the sites were already on a downhill slope before the pivot.
The most relevant explanation for marketers is that media companies, scrambling to find new ways of monetizing content, listened to advertisers and distribution platforms who were clamoring for more video. But they overlooked the glaring fact that users don't have as strong a preference for video as you would think from video-frenzied media world we live in today. (Not to mention the fact that distribution platforms themselves claim 99% of digital advertising dollars.)
The Reuters Institute Digital News Report 2017 found that the proportion of people paying for online news grew by 7% from 9% to 16% between 2016 and 2017. That growth was even more dramatic among people aged 18-24, leaping from 4% to 18%.
Meanwhile, the same study found that video isn't growing as fast as you might think, up just one percentage point from 2016 to 2017. Approximately half of the people surveyed actually reported that they had never watched a news video on any online platform. The leading reason cited for a bias against video was, "I find reading quicker and more convenient."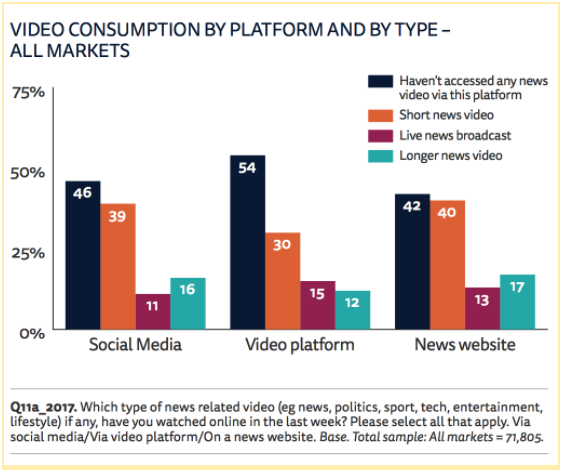 Image Source: Nieman Lab
A 2016 HubSpot study on content consumption patterns found that 44% of respondents said they wanted to see more news articles in the future, while 43% said they wanted more video content. That's a 1% margin, and it favors written content.
It's not breaking news that media companies are facing a monetization crisis. That doesn't mean that everyone who creates digital content should also pivot to video, especially when content is not your primary revenue stream, but rather a means to an end.
The concept of inbound marketing is that a company publishes high-quality content that educates consumers about topics relevant to their product or industry, that content introduces consumers to the brand and builds trust, and over time those consumers become customers. The revenue stream comes not from the content directly, but from the eventual conversion of reader (or viewer) into customer.
So if pivoting to video is not the answer – but particularly those for whom content is one part of the sales funnel, not the source of revenue – what should you take away from the hubbub around pivoting to video?
5 "Pivot to Video" Takeaways for Marketers
1) Make videos and great written content.
The biggest mistake media companies make when pivoting to video is doing so at the expense of editorial. Go ahead and ramp up your video production – there's nothing wrong with that. There really is a growing appetite for video content, and social media platforms do favor video content. But there's also a growing appetite for all content, so don't ditch the blog posts and longform articles just because video is the shiny new trend in digital media.
2) Play to your strengths.
If you're MTV News and you just hired a team of seasoned writers to spearhead your "experiment in the power of longform journalism," don't let them all go shortly after, especially when your content is resonating. Whatever your company is best at, whether that's making a great product or selling a great service, that should be your focus. Any resources invested into creating video should support that focus, not distract from it.
3) Don't make videos gratuitously.
One of the strongest criticisms of creating video for video's sake is that video becomes just a new medium for text, and one which doesn't do either medium justice. When you have a strong text piece, you don't need video. It's gratuitous. Save your resources to make video when video makes sense and has something to offer that words can't. Quality over quantity. It's a good policy.
4) Match medium to message.
To take the last point one step further, when you settle on a topic for a piece of content, choose the medium that makes the most sense for the message. A candid interview with a happy customer will do well on video, as would a high-level overview of a complex topic. An in-depth analysis of current industry trends, on the other hand, is easier to communicate through text. Your medium should always be chosen based on what will be the easiest way for users to consume and understand the information.
5) If you're going to do video, do it well.
As we mentioned above, one of the reasons that pivoting to video is correlated with shrinking site traffic is that sites often don't have the infrastructure in place to support an aggressive video strategy. Before you ramp up your video production, invest in the equipment and talent to do it well. Good video is expensive to create, but it pays to do it right.
Struggling with your digital marketing strategy? Sign up for a FREE 1-hour assessment.