Rebranding can be essential for a company to stay competitive in an evolving marketplace, but it's not without its dangers. Get it right, and you can extend your audience and reinvigorate the interest of longtime customers. Get it wrong, and you might alienate even your most loyal customers.
Rebrands can be notorious for disastrous miscalculations. One example being the $100 million new logo that Gap revealed in 2010—only to revert it back to the original just six days later because the public reception was so overwhelmingly negative.
A true rebrand is a comprehensive update of messaging, product offerings, style, and ethos. However, the unveiling of a logo is usually what receives the most public attention—logically so, since it is the most tangible element.
A logo serves as the emblem of a brand, so what determines whether a logo update deserves to be categorized as "Best" or "Worst" is not just whether it's ugly or not (although that does factor in), but how well it represents underlying changes in the brand's priorities or direction.
Perhaps the most important criteria for whether a logo is successful? How well it's embraced by consumers. Consumers form strong emotional attachments to logos, so making any significant changes is always a calculated risk.
How did brands fare with reinventing themselves in 2016? Let's take a look.
BEST

CVS Health
In 2014, CVS became the first pharmacy to stop carrying cigarettes. In 2016, they underscored this commitment to public health by rebranding from CVS Pharmacy to CVS Health.
The CVS Health rebrand works so well because it unified the company's four service brands—CVS Pharmacy, CVS Specialty, CVS Minute Clinic, and CVS Caremark—into a recognizable system of healthcare solutions symbolized by the company's new logo icon, the CVS Health Heart.
A statement from the press release explains that the new name and logo reflects the company's "broader health care commitment" to "changing the way healthcare is delivered to increase access, lower costs and improve quality." The Health Heart icon is versatile, approachable, and serves to symbolize the company's new integrated model of providing increased access to everyday wellness services that allow communities to "manage health in more affordable, effective ways."
Netflix
Not quite a complete rebrand, in 2016 video streaming service Netflix launched an icon as a new element of their overall branding. A standalone N stylized as a 3D ribbon, the icon represents Netflix achieving "first name only" recognition status amongst consumers. Though not replacing their standard logo, the new N icon is more dynamic than the wordmark, and even when it appears alone is enough for people to identify the Netflix brand.
Netflix updated their Facebook and Twitter profile photos with the new icon.
WORST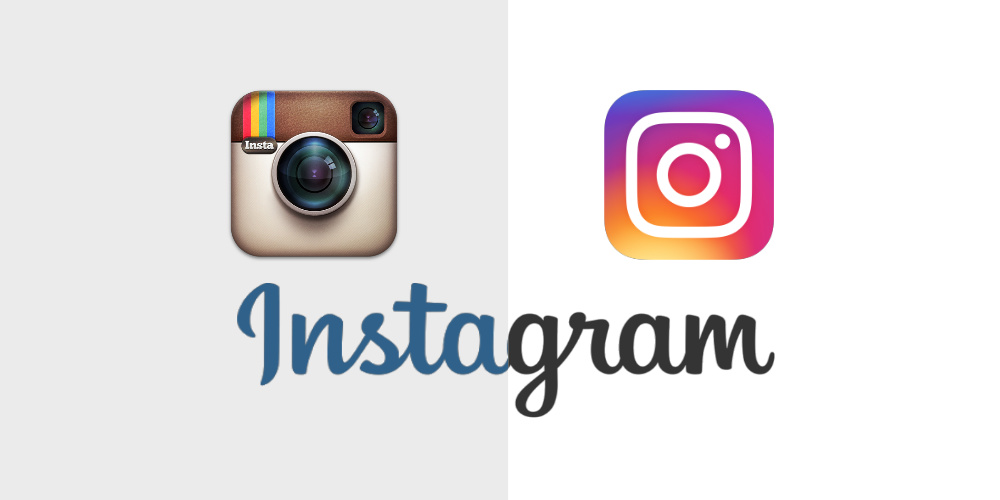 Instagram
Instagram's new logo was one of the most high-profile and unpopular rebrands of 2016. The beloved retro-style camera logo of ore was replaced with a flatter minimalist white outline of a lens against a colorful gradient background.
The brand's rationale states that the "Instagram community has evolved over the past five years from a place to share filtered photos to so much more – a global community of interests sharing more than 80m photos and videos every day. Our updated look reflects how vibrant and diverse your storytelling has become."
Users, on the other hand, have described the logo is looking as though "the camera was murdered, and chalk was drawn around its body. Murdered at sundown." They've grown begrudgingly accustomed to the new logo over time, but it wasn't a slam dunk, that's for sure.
Uber
If you went looking for your Uber app on February 2nd, you may have found yourself stymied for a moment. The app replaced its original logo—a simple black and white sans serif "U"—with a new abstract logo consisting of a stylized white circle with a square cut out inside against a geometric patterned background.
The brand's crucial misstep comes from the fact that the new logo draws no visual correlation to the old logo. There is nothing recognizable about the new design that users would associate with the brand they have come to know and trust. Critics accuse the logo of being generic, and of looking more like a computer or communications company than a car service.
Uber representatives explained that the logo was updated to reflect the company's growth from transporting merely passengers to moving "food, goods, and much more." However, it seems that in users' eyes, this was a grave miscalculation and the company seems to have lost touch with its identity in the decision to change their image.
Lesson: Updating your look is all well and good, but companies should beware of straying so far from original branding that they become unrecognizable.
MEH

Pandora
Pandora's old logo—a serif wordmark that had been more or less unchanged since 2000 (barring one typographic update in 2013) was inarguably due for an update. However, the new logo revealed on October 13th leaves something to be desired. Another wordmark, this time spelled out in a geometric sans font, the only thing remarkable about the logo is how remarkably generic it is.
The new logo coincides with the company's transformation from an internet radio app to an on-demand music streaming service. Pandora's Creative Director said of the new design, "With this revolution at Pandora happening, we wanted to do something revolutionary, not just evolutionary, when it came to what it looked like."
Users can make up their own mind as to how well they succeeded, but in this writer's opinion, the new logo is no more revolutionary than the company's choice to follow in the footsteps of Spotify and Apple Music by transforming into yet another streaming service.
Dell
The new Dell logo accompanies the announcement that Dell has acquired cloud computing company EMC to form a new parent company, Dell Technologies. The logo itself is simply a thinner version of the logo they've been using since 2010, which put the original Dell wordmark inside a circle.
A statement on the Dell brand microsite states, "A modernized, thinner Dell logo signals change but maintains the heritage of one of the most recognizable brands in the world." Well…okay, we'll give it to you, Dell. It is certainly improvement, but there's nothing groundbreaking happening here. It's competent, it gets the job done, but that's pretty much the most that can be said in favor of it.
Stay Connected
For more of the latest news and opinion from the world of marketing design, subscribe to our blog below and stay on top of today's market movements.