Google dominates online search. Ergo, it also dominates paid search, otherwise known as search advertising. If you're seeking a search advertising partner to manage your PPC and AdWords campaigns, you should look for one that's attained Google Partner status.
A Google Partner certification recognizes an agency's experience, expertise, and AdWords performance. If a company has attained Partner status, you can feel confident that they know a thing or two about advertising with Google products.
In fact, it's impossible to become a Partner without having solid results to show for yourself. Not just any company can meet the Partner qualification standards.
The qualifications for Google Partner status are as follows:
Demonstrate Adwords skills and expertise through individual certification
Meet monthly Google ad spend requirements
Fulfill performance standards by delivering strong client and company growth
Create a Partner profile
AdWords Certification
To fulfill the expertise requirements, one or more individuals from the company must become certified in AdWords. Certification entails passing the AdWords Fundamentals exam along with one additional AdWords exam in an area of specialization. Becoming AdWords certified recognizes the person as an expert in online advertising.
AdWords Performance
A Partner meets Google's performance standards by delivering solid ad revenue and growth on behalf of clients, and through sustained, steady growth of its own client base. Google evaluates performance by analyzing the activity in the client accounts linked to your manager account during the past 18 months.
Google Ad Spend
For ad spend, Google looks for a minimum spend of $10,000 across a 90-day period as an indication of healthy advertising activity.
Specification
In addition to Partner status, companies can earn specializations in one of five AdWords product areas: search, mobile, video, display, and shopping. To earn a specialization, the company must have one employee certified in that AdWords product area, demonstrate product expertise in that area, and meet the 90-day ad spend requirement in that area.
If we seem well-versed in the criteria and process of becoming a Partner, that's because we just achieved Partner status ourselves! We're specialized in Search Advertising.
So Why Does it Matter?
Why should you care whether your agency is a Google Partner or not? Basically, it gives you more reason to trust that they know what they're doing.
If a company is a Partner, you know that their online advertising team has been certified by Google, that they can successfully manage a certain quantity of advertising volume, and that they consistently deliver strong results for their clients through search advertising.
That's confidence you can put your money on.

Finding a Partner
How do you know if an agency is Google Partner certified? They'll proudly display the Google Partner badge somewhere on their website.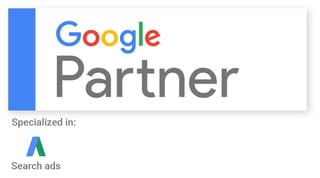 Here's what it looks like on our site: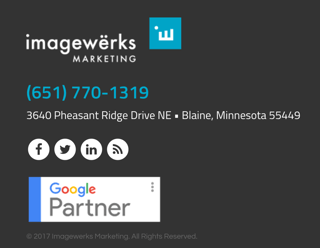 Hover your mouse over the three dots to find out what their specializations are.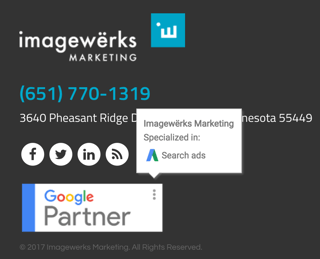 Have more questions about Google Partners?
Looking for a Partner agency to manage your search advertising? We'd be happy to sit down and talk you through all things Google and AdWords. Click below to request a free one-hour Digital Marketing Assessment with our very own AdWords certified digital marketing specialist.