Facebook's new "Topics to Watch" insights collect data from hundreds of thousands of conversations to highlight new emerging trends. Learn how to take advantage and plan compelling new content for your brand.
If anyone has a handle on the Next Big Thing before it becomes an actual "thing," it's Facebook. They can predict with astonishing precision the content we want to consume, the characteristics of our personalities, and even the fate of our relationships.
The topics are not yet trending so they make strike you as unusual, but that's exactly the point. These are topics gaining traction and driving engagement in significant percentages. For marketers and advertisers, this is an opportunity to stay ahead of the curve and take advantage of the buzz while it's building up—not as it's about to burn out, a challenge that small businesses with a lack of time (and resources) are all too familiar with.
According to Facebook's research team, 80% of the subjects they've predicted will increase in chatter have gone on to become more prominent trends. For example, April showed things like"large format photography" "gnocchi" and "modern physics" are fairly particular, but could be of assistance to niche marketers.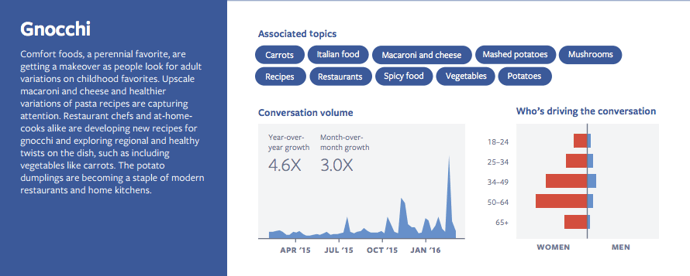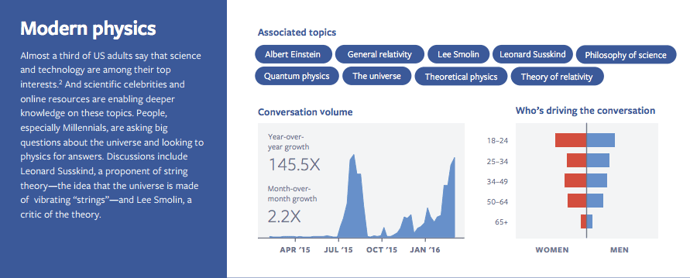 As these trends come to fruition, keep these tips in mind for seizing the moment and making the most of brand opportunities.
1. Process makes perfect.
It's ideal to designate a team as the "real-time operational structure" responsible for acting on up-and-coming opportunities. That way, you can get your content created and gather the necessary approvals before the window of opportunity closes.
Determine how you can foster internal collaboration around news and activity across all platforms. Small businesses note: This doesn't have to be a full-time team, merely a designated group of people prepared to allocate time to producing of-the-moment digital content when relevant.
2. Keep an ear to the ground.
In this era of consumer control, failing to be hyper-aware of big-news moments puts brands at risk of becoming irrelevant or left in the dust. Plug into the accounts related to your brand—journalists, bloggers, key industry people, and news media—and pay attention for those moments ripe for brand-building spontaneity.
3. Small moments build big brands
The key to real-time marketing success doesn't hinge on one, well-timed moment. Don't come firing on all cylinders your very first time out; instead, employ small-scale, real-time marketing campaigns on a regular basis. Your audience will come to expect timely and relevant communications from you over time, and your team will be well-practiced and poised to take advantage of the golden opportunity when it presents itself..
4. Internalize your brand.
Know your product, services, and audience from the inside out. View every situation from the perception of your brand and your target audience so you grow accustomed to seeing the world through that lens. By becoming your brand, you will be better able to tell which opportunities are worth reacting to from those that just don't fit your brand. Being at the right place at the right time is hardly a happy accident.
Tools like Facebook's Topics to Watch present prime opportunities to tap into conversations before they move into the mainstream, giving you and your team precious advance warning necessary to create, approve, and publish relevant content. Which, in turn will lead to relationship building and deeper brand loyalty.
Ready to Start Trending?
Our team can comb through the data to find the trends and topics to keep your brand in the conversation. Just sign up for a Free Digital Assessment and leave the rest to us!