According to Facebook Insights, people check their devices for fresh content up to 150 times per day. With that kind of demand, how do you keep up and keep consumers engaged with your brand? Use these tips to rise to the challenge.
But just putting more content online isn't enough. Quality, relevance and timeliness mean a lot to busy people, and if your content ignores these essentials, your brand will suffer. So how do you scale up quantity without sacrificing quality, busting your budget, or overtaxing your resources?
The secret: It's all in your process.
1. Be Purposeful
Before you rev up production, you want to be clear about your objectives. What are you hoping to achieve by increasing content production? Which types of content and what kind of publishing schedule will help you reach your goals?
Running blindly full speed ahead will almost certainly result in you tripping and/or falling on your face. Articulate your goals so you can move forward consciously and with purpose.
2. Create Standards
Before scaling production, create a style guide specific to each kind of content you plan to produce. Your style guide should address everything from language usage to brand voice to design elements. Setting your creatives up with clear expectations for content standards will help prevent quality from slipping when production picks up the pace.
3. Hire Talent
It's all well and good to establish clear standards for the quality of your content, but you also need a team capable of meeting those standards. When interviewing a new creative, ask for work samples and references. You want to make sure you're filling out your team with experienced and capable candidates who can prove their worth.
Read More: The 4 MVPs You Need on Your Content Marketing Team
4. Organize Workflow
A common trait of many content teams is that they operate in a flexible capacity that allows people to wear multiple hats. But without an organized workflow, versatility can soon become chaos.
A clear workflow allows for accountability—crucial as you scale production. If something doesn't get published on time or gets published with mistakes, you need to know where the process failed and how to prevent it from happening again.
Whose responsibility is it to create content plans? Provide graphics? Proofread? Publish? Someone needs to be accountable for each step of the process—even if that's the same someone.
5. Be Experimental
Think infographics will be a hit with your audience? Publish a couple and gauge the response. If it's a hit, fine tune it to perfection. If it flops, make a new hypothesis and try something new—maybe short videos will resonate better.
Content marketing should be a constant guess-and-check process of experimentation and adaptation. Even when you find something that works, don't get too comfortable. One of the biggest dangers of scaling content production is getting locked into a plug-and-chug formula for content. Something that worked well on its first run will undoubtedly feel stale and tired on its 20th iteration.
6. Prize Details
When you try to do too much too quickly, the details are always the first thing to go. Try to scale your content production too quickly, and you'll find yourself publishing content with typos, broken links, and no SEO. Don't do that to yourself. Not all content is good content. Slapdash content can do more harm than no content at all.
If you're going to publish, slow down and take the time to do it right. This goes back to accountability. If you designate someone to be responsible for proofing everything before it's published, sloppy errors and oversights will decline before your eyes.
7. Reflect and Recalibrate
Part of being a guess-and-check operation is taking periodic pauses to reflect back on recent content, assess the relative successes and failures, and adjust your production plan accordingly. Make sure to solicit feedback during this process.
They're entrenched on the frontlines of content production, so they are your best resource about what's working, what's not, and what kinks exist in the process. By checking in regularly, you can make adjustments before a kink turns into a pattern turns into a problem.
Need a starting point for creating your content plan?
Our brand voice worksheet will help you get to the heart of what makes your brand unique and what compelling content will look like for you.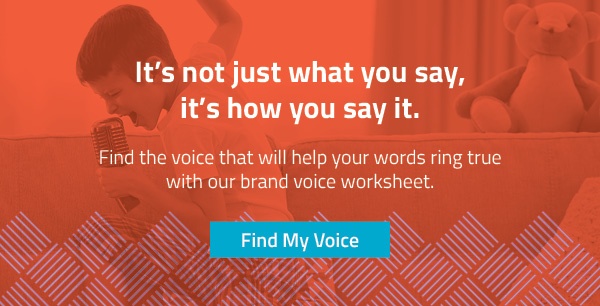 Editor's note: this blog post was originally published in July 2016 and has been updated to include additional information.